Taylor Brook: Alluvium for oboe d'amore and electronics (2016)
Premiere 2017 Willamette University, Salem, OR
Taylor writes of the piece: The title refers to the sand and rock materials that move through bodies of water, changing the shape and form of the shorelines over long periods of time. The title relates musically to a concept called microtonal drift, which occurs when modulating to different keys in an extended just intonation context, causing the tonic to gradually drift away from equal temperament. For example, a modulation to the natural seventh is nearly a third of a semitone flat from equal temperament, meaning that a sequence of modulations to the seventh will drift further away from equal temperament with each modulation. In this piece, the tape part plays a series of precisely tuned microtonal modulations that gradually drifts the harmony from an E-flat tonal center to a D tonal center over the course of the entire piece, spiralling through unfamiliar harmonic territory all along the way.
More about the composer

Matt Carlson: Chiasmus for English horn and Synthesizer (2018)
Premiere July 2018 Extradition Series Portland, OR
Matt writes of the piece: Chiasmus is an attempt to reduce the amount of information in my music. I wanted to see what could be done with two melodic voices, playing together in space. I have an interest in the way that overlapping melodies create harmony, a kind of loose polyphony. Counterpoint without rules. When you have just two voices, perceived tonal centers can subtly shift without feeling like chord changes. Two notes play, it implies a chord; change one note and it implies a scale. Change another note and you can play with that implication. It's quite airy and not bogged down with the weight of a center. I wanted these moments just sitting there gently in space, coming one after another without much continuity or development.
more about the composer

Loren Chasse: a work for oboe and media (in progress)
More about composer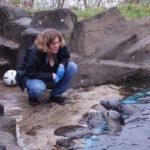 Emily Doolittle: REEDS for oboe, clarinet, bassoon and dancer
Premiere Sound Symposium July 2010 St. John's Newfoundland
More about the composer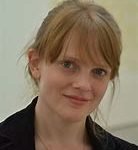 Molly Kien: New North American Folk Songs for oboe and piano
Premiere. April 2011 at the Old Church Portland, Oregon
More about the composer
Silkys (2020) a collaboration between Catherine Lee and Juniana Lanning for oboe and manipulated field recordings.
Premiere August 14, 2020 ISSTA 2020: Sonic Practice Now (Irish Sound, Science & Technology Association)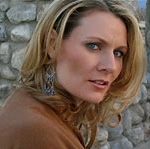 Dana Reason: Chanson de fleurs: Eleanor de Aquitaine (2017)
Premiere 2017 Willamette University, Salem, OR
Dana writes of the piece: "Does the flower hear the bee?" –Reason.
Throughout the work oboe and soundscape oscillate between foreground and background. These sonic negotiations trace the struggles between public and private life and the embodiment of being/sounding/thinking and becoming. Throughout the work, I'm interested in creating an imagined sonic story centered on the remarkable protagonist: Eleanor of Aquitaine (d. 1204). Some of my questions include: What did she hear during childhood; her studies; marriages to Louis VII of France and Henry II of England; 16 years of imprisonment as well as her final years as a nun at Fontevraud Abbey? Furthermore, how did she sound her private musings?
The soundscapes throughout the work contain glitched, textured and manipulated field recordings, vocal samples and bird calls (including the common loon used here as a symbolic "shout-out" to a childhood sound I heard at Lake Simcoe in Ontario, Canada). The oboe presents remote and expressive qualities reminiscent of vocal Renaissance music but without text. The soundscape is fixed (unalterable?) throughout the performance and the oboist does not use a timer to move through her materials, but instead maintains an attitude of self-governance in order to play the music. Ultimately, the performer has the freedom to shift how fast or slow to play through the materials or can even edit the score in order to enact the multiplicity of hearing and listening in real-time sounding.
More about the composer
Julian Snow: Red Eyes, Green Lion's Teeth, Golden Heads (2017)
Premiere 2018 Willamette University, Salem, OR
Julian writes of the piece: Red Eyes.. is inspired by backyard flies and dandelions. ("Lion's teeth" refer to the plant's distinctive leaves.) The recorded accompaniment includes sounds from a homemade zither, toy piano, bass drum, piano, vintage electric keyboard and a malfunctioning tape deck. Special thanks for recording help to Stan Keightley, Jr.
More about the composer
Selected Solo & Chamber Premieres
Mark Hanneson: Home.Haven.Refuge & Child
Extradition Series September 21, 2019
Resound NW (Portland, OR)
More about the composer
James Harley: Sonnet Quartet for oboe, violin, viola, and cello
Premiere Messiaen Melange de Musique December 2016, Community Music Center. Portland, OR
More about the composer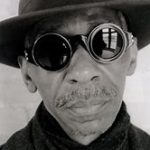 Roscoe Mitchell: Nonaah for flute, oboe and piano
Premiere Improvisation Summit of Portland Disjecta June 2015
Emily Doolittle: Social Sounds from whales at night (2007) for oboe d'amore and tape
Premiere Blue Box Ensemble Recital July 2011, Leaven, Portland, Oregon
Susan Alexjander, Three Little Multiverses (For Lou) (2017)
Premiere Friday June 16, 2017 Portland State University, Lincoln Hall. Diane Chaplin, cello; Kate Petak, harp; Catherine Lee, cor anglais; Hannah Penn, voice
Dana Reason: Proxemics (2017)
Premiere Jan 21, 2017 Leaven. Portland, OR. Performed by Lee Elderton (clarinet), Catherine Lee (oboe), Dana Reason (piano), Andre St. James (bass), and Matt Hannafin (percussion).